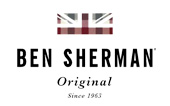 Bags Ben Sherman
Opt for a wallet or bag Ben Sherman. It's a timeless brand combining vintage and british spirit, adapting to all styles. It often offers an original design worth Carnaby Street, the most fashionable street in London. Ultra popular in England, Ben Sherman is now in France and on Bon Clic Bon Genre, enjoy!
Read more ...

And when it's not visible, the British spirit is hidden inside every fiber, every parcel of leather. Do not forget: God Save The Queen!
No results for this search.

Go home